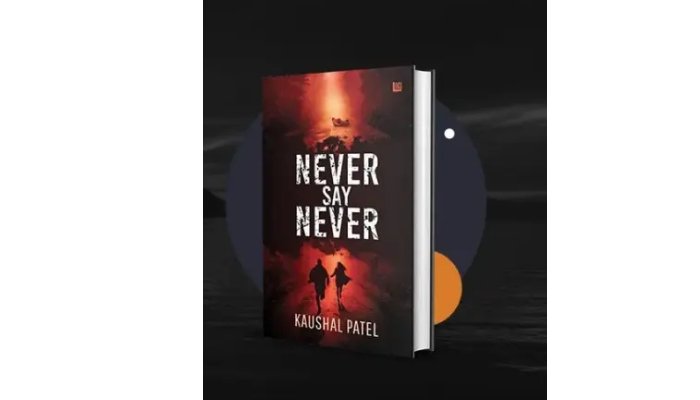 Looking to immerse yourself in a mystery plot this summer vacation and explore the detective in you, here's a fascinating story with ingenious sprinklings of clues to keep you on the edge of your seat. Kaushal Patel's 'Never Say Never' published by Leadstart is a thrilling plot around the deliberations of human nature centered at the heart of the story.
A Banker for over 18 years, Kaushal Patel lives in Mumbai with his family. With his debut novel 'Never Say Never' he brings out a poignant and mysterious plot dipped in the flavor of humor. "Never say never, or it becomes a vice, and there you have it, you just did it twice", revolving around this saying, the protagonist's life is no less than a puzzle in this contemporary fiction when he stumbles upon an envelope at his grandfather's death and which becomes the key to the twist in his faith and the beginning of roller-coaster ride to solving the jigsaw puzzle. The title depicts the motto of the protagonist and is perfectly portrayed throughout the plot. Sutradhar Apte aka Sutra, an Investment banker, is stranded with an uncertain future after losing his well-earned job and stumbling upon a fortune from his dead grandfather's inheritance. However, before he beholds his sheer good luck, he must solve a puzzle of finding a mysteriously missing young girl, Yami. A man who "struggles to find a missing sock and is expected to find an entire person", is baffled by this bizarre pre-requisite to claim his inheritance and reluctantly sets out to unravel the mystery.
"As it stands today, Shivya's sister is still missing. Till you find here, you can't claim the inheritance", etched in Sutra's destiny, this condition in the unexpected nomination for inheritance becomes the 'sutra' of his life. Emerging from his winding state and driven by his fierce resolve, Sutra is all set to transform his life as he starts living all over again. Piecing together the ingenious sprinklings of clues, Sutra comes across Yami's sister Shivya and is instinctively drawn toward her. As they get caught in an unnerving and dangerous net of events where each discovery leads to more puzzles, will the duo be able to find the missing girl, and will Sutra be able to embrace his fortune? Find out in this enthralling read where a ray of hope leads to an entangled set of events with an unexpected journey of the protagonist.
A fast-paced narrative and natural flow of the storyline tinged with humor elements have been the writing style of the author and which makes the story intriguing. As the dots connect through rightly placed twists and turns, the brilliance of the plot shines out only when the last page has turned. Close to reality, the plot is devoid of dramatic flair and glossy ending, and hence readers feel connected to the story and characters. The impactful characterization keeps the readers glued to the pages, so much so that, you wouldn't want the story to end. With a seamless flow of narration and well-developed characters beautifully woven around the threads of humor, thriller, and mystery, the book is most certainly going to be an enjoyable read. The wit of the author shines through the narrative of the story keeping it light-hearted even with a dark theme.
Every mysterious plot seems to be a traditional tale, but Kaushal has successfully spun the predictability in his way and created an atmosphere of raw emotion infused with effective characterization making it a great suspense thriller. A blend of multiple genres makes it a unique reading experience. The in-depth characters with evolving emotions and balanced pace of twists, make this book different than the usual mysteries. As the cynical Sutra discovers his true calling, there are speculations as to whether he will be able to fulfill his grandfather's wish? Will he be successful in finding the missing girl? What does fate have in store for him and his newfound muse, Shivya? Are there going to be more surprises? Find out all the answers as you turn those pages packed with realistic, raw, and sympathetic emotions and suspense.
Kaushal Patel aims to achieve his dreams and engage with people through his writing and which he has already proved in this debut novel. A well-curated plot with Sutra's wit and Shivya's bravery, 'Never Say Never' is a book worthy of your time and to immerse into this summer to discover the detective in you.